Deadbolt locks have been a mainstay back in the days. Today, electric strike locks come about as an interesting solution to door security management with a handful of options. In the past, individuals have been a little sceptical about the lock's efficiency in terms of disaster and fire scenarios but that is not a major concern anymore as the locks come with two configurations that will be covered in this article. Additionally, electric strike locks are slated for future applications to facilitate automation in modern homes. Without further ado, let's hear more about what electric strike locks have to offer.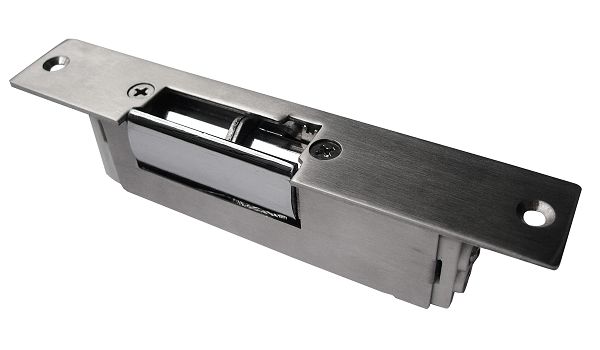 How does an electric strike lock work?
You have to first understand the basic anatomy of doors before you can comprehend how electric strike locks work. Basically, there is metal plate called a strike that connects to a door jamb and it allows the lock's mechanisms to work flawlessly. Electric strike locks on the other hand, are activated electronically and a latch-bar or keeper is toggled between closed and open based on the model's configuration. Speaking about configurations, there are two you should know; the fail-safe and fail secure.
Fail secure configuration
In a fail secure configuration, the latch-bar only opens only when an electrical source is available. Otherwise, it will return to its default state, the locked mode. Doors using this configuration only work best if you are using it in a commercial space, like a storage unit or warehouse that does not receive regular human traffic. Even if there is a power loss, it would be to your advantage as a break-in is impossible. Hence, fail secure configurations are not suited for domestic use as the doors can't be manually opened as fast in an emergency.
Fail safe configuration
Fail safe configurations are the direct opposite of the former, thus it will be easy to remember its properties. In this configuration, the latch-bar is always open by default when there are no electrical sources. In order to close it, an electrical current has to be present to close or activate it. Hence, this would be the ideal configuration for your home because there is zero chance for the electric strike to remain shut during an emergency and there is a power outage.
Who needs locks like these?
Currently, electric strike locks are pretty rare among domestic properties as it is not really needed for individual homes. However, individuals who live in city apartments are familiar with electric strike locks. Whenever someone grants you access (you will hear a buzz sound from the device's built-in buzzer) from a remote location in a building; that is an electric strike at work. When there are electric strike locks, there will be a central hub to monitor traffic movement and activate doors that need to be opened or closed. Electric strike locks are much more prevalent in facilities owned by the government, multi-national companies, and small business shops and anywhere that needs to monitor and control the ins and outs of a building.
Since home automation has started to take effect, electric strike locks face a bright future ahead, as it will be developed and improved for domestic use in general.
Advantages of electric strike locks
Electric strike locks bring benefits to their owners which include:
• Perfect for applications that require high levels of security
• Places where many previous locks have been broken or picked
• Children will not be able to wander off at night on their own, or be led by strangers away from their homes
• A wide range of locks can be acquired to work hand in hand with the electric strike locks. It could cylinder locks and even conventional mortise locks
• Owners are also able to fit in an alarm or a light system, to indicate when a door is opened and closed
Disadvantages of electric strike locks
There are also downsides of the electric strike locks and they include:
• There is a risk that a person with clearance may lose his or her key card, misplace it or even get stolen
• Without a card, access is denied for sure. That leads to valuable time wasted, especially if one is at work
• The cards are quite costly if replacements are required
• Electric strike locks are door-specific and require thick door spaces. For example, it cannot work with doors that contain aluminum frames as the lock simply won't fit
• If one insists on installing an electric strike on a unsuitable door, extra preparations are needed
Where can I get one?
Locksmiths are the go-to to get an electric strike. Before you make any purchases, ensure that you clear with a fire marshal or relevant authority whether your door or building is fit such a lock. Once you receive official clearance, you may proceed to hire a locksmith to help you with the installation. Like any other electrical devices, your electric strike locks require maintenance from time to time.
If you ever need help with locks, don't hesitate to enquire with us. We believe that the smallest lock can also make the biggest difference and we sure know locks well!